Personalised Dog Harness StopTraction
Personalised Dog Harness StopTraction
The customizable harness without traction and reflective.
Suitable for all breeds of dogs.
Breathable materials to stay cool in summer
Customizable with your dog's name and your number to avoid losing him/her!

* To customize the name panel, please write your pet's name in the "note for seller" section during checkout *
A must for every pet owner for a problem-free experience with your loving four-legged friend! Made out of breathable and strong materials, in addition to a customized identification on both sides. Say goodbye to pullings and chockings by an evenly distribution of pressure. 
92% customers said that this harness reduces pulling and 46% reported that they feel a lot safer walking their dogs knowing that they could be identified during an emergency

🐶😺 INJURY PREVENTION – Traditional collars invite your dog to pull which causes discomfort and neck, nerve and thyroid damage. There are no hard edges to reduce injuries from sudden movements or from running. The pulling pressure is placed on your dog evenly to prevent any choking or painful pulling of your pet.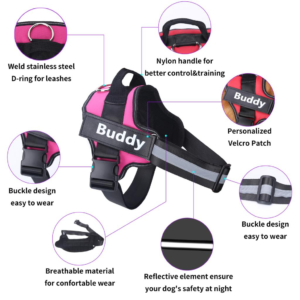 🐶😺 CUSTOMIZED AND ADJUSTABLE – Customize your collar any way you wish so that it fits your pet's and your personality no matter how big or small they may be! Choose your favorite color, include your pet's name and even your phone contact if you wish to. Moreover, the adjustable straps and buckle allows it to easily adjust and fit on any dog comfortably.
🐶😺 DURABLE MATERIAL AND SECURE – Our harnesses are made with high quality stainless steel and soft padded material that makes them light, durable and breathable. Additionally, the reflective straps ensure high visibility outdoors during the day or night. Each harness has a nylon handle built into the top for an easy grab to pick up your dog.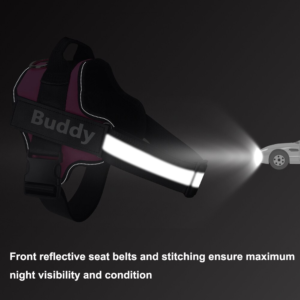 🐶😺TO CHOOSE THE SIZE – Follow the size chart below. For each size chosen, the harness remains adjustable so that it fits your dog perfectly 
FAQ
How do I exchange the harness if it doesn't fit my dog?
  We are happy to do an exchange if something doesn't fit or for any reason. Please contact us at contact@theluckiestpets.com for further instructions.
How long will shipping take?
  Shipping to the USA takes 5 – 10 business days while international shipping takes 6-12 business days.




Comfortable & Risk Free Shopping For Everyone
How much will the shipping cost?
For everyone in our pack, we offer Free Domestic & International shipping with 0 Hidden Cost!
How long will delivery take?
Shipping to the USA takes 10-12 business days while international shipping (Mexico and Canada) takes 10-20 business days. However, please count between 3-4 days of processing due to a high number of commands.
What If It Doesn't Fit?
We are happy to do an exchange if something doesn't fit or if you simply did not like our product under 30 days
 

Good product

My dog is so classy now