Pawcover™ – Pet Waterproof Car Seat Cover
Pawcover™ – Pet Waterproof Car Seat Cover
Save yourself countless hours

of removing dog hair, mud, stains and cleaning your back seats!

Pawcover™ is made of waterproof material due to special diamond hot press technology and different layers of materials. Purrfect to cover and

protect from any spilled liquid.
Easy to install and clean

. It's compatible with almost any car and machine washable.

An integrated mesh window allows your dog to see you even when he is lying on the back seat. So that

you and your dog can relax and be less anxious

! 

As you know, dogs are (considered to be) man's best friend. We love hanging out and traveling with them. However, transporting them can be quite THE challenge! Not only because they love to chew, drool, scratch on anything inside our car. But also, who are you kidding, right? They are always dirty when we take them out for long rides: one trip to the beach, a muddy forest…and voila, your car is in a terrible state! And of course, we don't always have the time for cleaning up…
But worry no more! Check out Pawcover™, our dog car seat cover and say hello to peaceful rides with your favorite bud. You'll never have to worry about urine stains, mud, hair, etc. on the back seat of your car again! Sounds like a dream, doesn't it?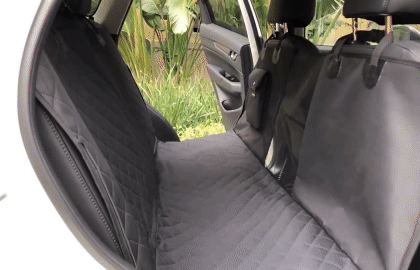 🐶 FOR A CLEAN AND STRESS FREE RIDE –  With Pawcover™, your dog can see you even when he is lying relaxed on the back seat through a mesh window. Your doggo will lie down faster and be stressed free during the ride! It also allows air to flow to the back seats, providing a cool environment for your lovely dog.

🐶 QUICK AND EASY TO INSTALL – In just 3 steps with 4 adjustable quick release clips! Just snap the buckle straps around your car's headrests and tuck in the seat anchors under the backrests. It also has two pockets on the seat cover provide storage space for treats or clean-up bags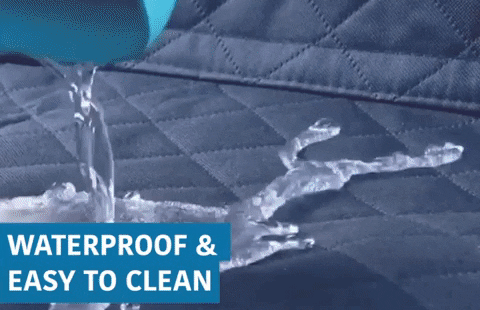 🐶 HIGH QUALITY MATERIAL – Made of quilted, heavy-duty polyester, this cover provides protection for your car seats and floors from water, spills, stains and color-bleeding—while being comfy and safe for any-length trip.




Comfortable & Risk Free Shopping For Everyone
How much will the shipping cost?
For everyone in our pack, we offer Free Domestic & International shipping with 0 Hidden Cost!
How long will delivery take?
Shipping to the USA takes 10-12 business days while international shipping (Mexico and Canada) takes 10-20 business days. However, please count between 3-4 days of processing due to a high number of commands.
What If It Doesn't Fit?
We are happy to do an exchange if something doesn't fit or if you simply did not like our product under 30 days