Scratchit™ – our cat self grooming brush.
Scratchit™ – our cat self grooming brush.
Does your cat use everything that he can in order to scratch himself? Are you tired of having your

catto hair everywhere

? Well, say goodbye to that!

A simple and remarkably effective method for your

cat to groom

themselves everyday all day long!

Scratchit™ is easy to install, disassemble and can be hand washed

You just have to install it in the corner of the wall or at the corner of the furniture. At the right height so that your

catto can easily reach it

.

Are you one of the cat owners that end up with fur in every furniture, even after you just cleaned up? Does your cat use the furniture the wrong way (for you at least, I mean, because are we kidding, right? it's his/her furniture..)? Well, worry no more and check out Scratchit™, our cat self grooming brush.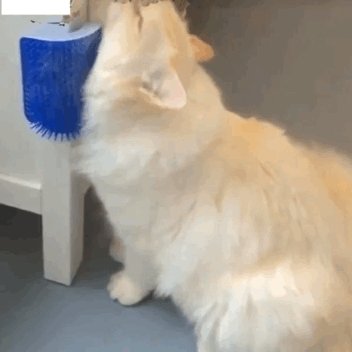 😺 KEEP YOUR CATTO STYLISH AND HAPPY – This fantastic hair removal tool makes keeping your cat's fur looking it's best every single day as simple as can be. Even when you are not at home to do so! It also comes with a pouch of mint so that your catto adores it!
😺 EASY TO DISASSEMBLE AND CLEAN – It comes with a double-sided tape making it super easy to install at walls, glass surfaces and corners. Yet, it can also be connected with screws if you prefer. 
😺 DURABLE AND LONG LASTING – Made out of BPA-free materials, high quality plastic that is manufactured to last through years of hair removal. All that you need so that your furry friend can enjoy his/her daily massages and comb the hair to purrfection.




Comfortable & Risk Free Shopping For Everyone
How much will the shipping cost?
For everyone in our pack, we offer Free Domestic & International shipping with 0 Hidden Cost!
How long will delivery take?
Shipping to the USA takes 10-12 business days while international shipping (Mexico and Canada) takes 10-20 business days. However, please count between 3-4 days of processing due to a high number of commands.
What If It Doesn't Fit?
We are happy to do an exchange if something doesn't fit or if you simply did not like our product under 30 days